The angular framework has become a boon in building a dynamic web page for almost all business needs. However, as we all know, developing code is always a tedious task to do. Agreed?
AngularJS Developer is assisted with an efficient bundle of tools to help every developer work efficiently within less time. Let's go through some of the prominent Angular development tools available for Angular web application development ingeniously and efficiently.
10 Most Popular Angular Development Tools
Let's highlight some of the best Angular development tools that make it easy for Angular developers to do coding smoothly.
Searching For the Best Front-End Development Services?
At Albiorix, we have a team of talented Angular professionals that always strive to provide the best optimum IT solutions.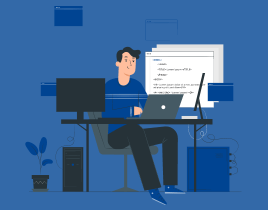 Conclusion
So, we have seen the list of top-rated Angular development tools that helps developers to deal with web app development smoothly.
Angular development is the best option to make web app faster by integrating seamless features and functionalities. So, if you are planning to build a new Angular application, the perfect option is to hire an AngularJS developer proficient in web development.
At Albiorix, we have a large pool of talented and experienced AngularJS developers who helps you in building a dynamic app to streamline your project objectives.